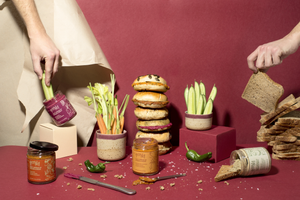 Tasty spread of veggies and seeds - inspired by a European cult product. Mouth watering, chef approved blends to smother on your favorite food! Good for you! Good for the planet! That's grooVy.
Spread it. Snack it. Love it.
Mouth watering, chef approved blends celebrating our favorite veggies and seeds. Produce picked at peak flavor and preserved for when you are ready to enjoy it. Delicious on a slice of sourdough, a (plant-based) burger, in a wrap and more.
Your taste buds will love it (veggie lover or not)
Sustainably farmed ingredients — many with superfood qualities — means more nutrients. grooVy is packed with fiber, vitamins, healthy fatty acids and easily digestible protein. It's all natural, low in sodium, and lower in calories than most spreads (in case you're counting).
Lots of good things - just a spoon away
A more sustainable food system with every bite. grooVy promotes regenerative farming for a healthier soil and prioritizes local produce rather than exotic, imported ingredients with a big carbon footprint. A longer shelf life contributes to less fresh food waste and our packaging includes eco-friendly labels and reusable glass jars. On top of that, we donate to 1% for the Planet — because both people and veggies need a healthy place to grow.
Doing good for the planet with every bite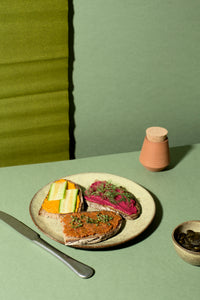 About us
Tired of our morning toast spread options, we — an omnivore and a vegan — set out to reinvent the spread market. A tasty, wholesome spread made out of veggies and seeds was born — that's grooVy. We prioritize domestic, sustainably farmed produce rather than exotic ingredients flown in from far away (did you know that an avocado has 3x the carbon footprint of a cow milk latte?!). Our spreads are shelf-stable up to one year (hello, new pantry staple) thanks to gentle preservation techniques, which means nutrient packed food ready when you are and less fresh food waste. Well, we believe that food should be good for you and the planet. Delicious on a slice of sourdough, a (plant-based) burger, in a wrap and more.
We give back through 1% For The Planet to support environmental and social causes — because both veggies and people need a healthy place to grow.
Love,
Anna & Claudia